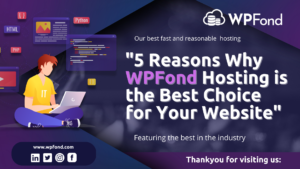 Introduction:
When it comes to choosing a web hosting provider for your website, there are many options to consider. However, one hosting provider that stands out from the rest is WPFond hosting.
In this blog post, we'll explore five reasons why WPFond hosting is the best choice for your website.
Affordable Pricing:
WPFond hosting offers affordable pricing plans that fit a variety of budgets. Their plans start at just $2.95 per month, which is significantly lower than many other hosting providers.
Excellent Performance:
WPFond hosting uses state-of-the-art servers and infrastructure to ensure that your website loads quickly and performs well. They also offer free CDN and caching services, which can further improve your website's performance.
Top-Notch Security:
WPFond hosting takes security seriously and offers a range of security features to keep your website safe. These include free SSL certificates, daily backups, and malware scanning.
User-Friendly Control Panel:
WPFond hosting's control panel is intuitive and easy to use, even for beginners. It includes a range of tools and features that make it easy to manage your website, including one-click installations for popular CMS platforms like WordPress.
Excellent Customer Support:
Finally, WPFond hosting offers top-notch customer support, with a knowledgeable and friendly team available 24/7 to answer your questions and help you troubleshoot any issues that arise.
Conclusion:
If you're looking for a reliable, affordable, and user-friendly web hosting provider, WPFond hosting is an excellent choice. With their excellent performance, top-notch security, and exceptional customer support, they're the perfect partner for your website.